https://www.jugendzentren.at/publikationen-blog/blog/becoming-an-ambassador-of-peace/
0 Kommentare | Comment
peacecamp in der Zeitschrift der Wiener Jugendzentren
"See you", Ausgabe 2019, berichtet: Just_Lia

(application/pdf, 830 KB)

0 Kommentare | Comment
Interview in IATEFL Newsletter
The International Association of Teachers of English as a Foreign Language (IATEFL) published in its newsletter (September 2019) an interview with Laci Hajba, the coordinator of the Hungarian groups at peacecamps 2018 and 2019.
Klick here: IATEFL_Newsletter

(application/pdf, 468 KB)

0 Kommentare | Comment
peacecamp 2019 im Insider 09/19
0 Kommentare | Comment
Schülerzeitung Hagalil High School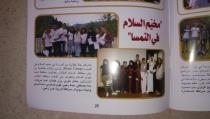 "Peacecamp in Austria:
A delegation of students from our school participated in peacecamp in Austria with other delegations from different countries. The students participated in different activities of peace and meeting different cultures. The participants are: Bashar Omari, Yazan Othman, Adan Mrowat, Hala Mostafa, Dima Zoabi, Faheem Khamaisy, Sama Asadi and Taimaa Swedan. With the teacher Ghadeer Zoabi".
0 Kommentare | Comment
Das Unmögliche möglich machen
Artikel im Access Guide Magazin.
Klick hier:
https://www.access-guide.at/magazin/das-unmoegliche-moeglich-machen/
0 Kommentare | Comment
peacecamp 2019 Lackenhof Austria - Teaser
https://www.youtube.com/watch?v=61sJIL3b9eE&feature=youtu.be
(5:44 min.)
0 Kommentare | Comment
peacecamp-Bericht in haGalil.com
klick auf: http://www.hagalil.com/2019/07/peacecamp-2019/
0 Kommentare | Comment